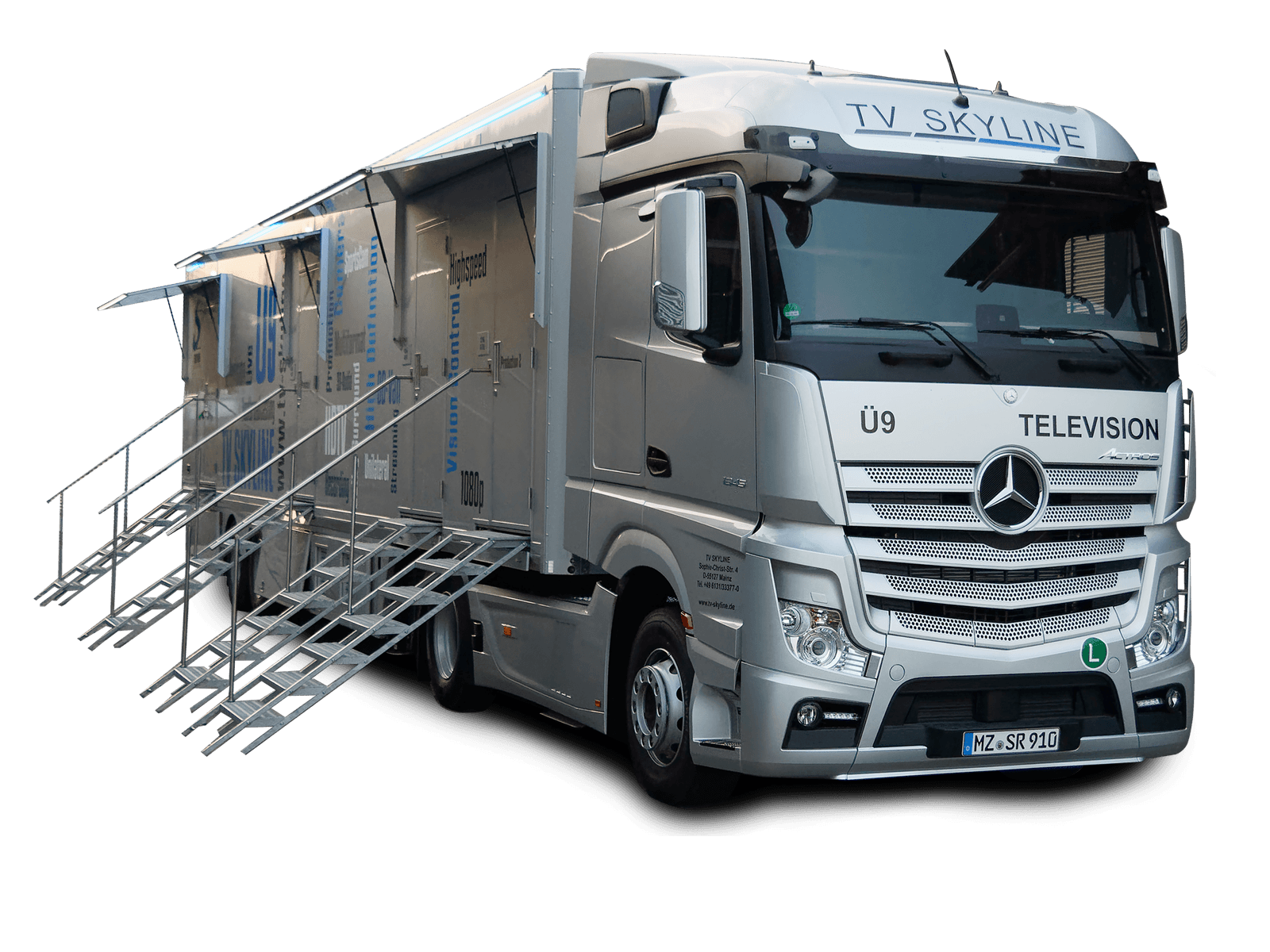 OB9
Creative Engineering
Room concept with maximum flexibility and workplace ergonomics – the new space miracle of TV SKYLINE
Innovative high-quality design with variable, colored lighting concept creates a working environment for enjoyment
Complete technology secured via UPS!
Our OB9 offers 22 flexible workplaces and is optimally placed wherever a lot of room in the OB van is required with a smaller footprint.
Its references include concert recordings, sports host broadcasts (e.g., Handball World Cup 2019, Hamburg Cyclassics, Golf Ladies European Tour, 2nd Bundesliga), industrial productions (e.g., Siemens AGM), or large shows such as. Welcome Berlin – the ZDF New Year's Eve Gala at the Brandenburg Tor.
Vision Control
Main production area:
3G/HD/SD multiformat switcher Kahuna 360 with Maverick control panel
3 Extreme M/E, 60 inputs, 40 outputs with Maverick control panel
8×55'' 4K display, 3x 32'' 3G display, 3×21'' 3G display
2nd production area (multifunctional room):
Useable as production area, AVID editing room, EVS and graphics area, second audio area, Meeting & screening room or editorial office
4x 55'' 4K display, 2x 32'' 3G display
Dolby 5.1 Soundsystem
Recording
Up to 4x EVS and 4x clips
Audio Area
Lawo MC² 56 MKII high end audio console with 48 channel stripes
Neumann 5.1 speakersystem with digital connection
Wohler Audio controller
2x 128 channel multirack recording
Audioprozessing T.C. Electronic System 6000
Intercom: Riedel Artist M
– 2x 128 x 128 ports
– 6x main radio
– 24x portable radios
3 stageboxes via Fiber
DSP-redundancy
• 18+ cameras
• Up to 3x SSL camera systems alternative NAC Hi-Motion II ultra-slow-motion camera (option)
• Fujinon/ Canon lenses from 14×4,3 to 99×8,4
• VSM-control
• 4x 24'' 3G display, 4x 17'' 3G display, 1x 24'' class 1 display 3G, 1×32'' 3G display
• 3G/HD/SD SAM Sirius 830 Hybrid video audio 288×428
• 4x Imagine Communications UP / Down/ Cross converter
• 16 SAM frame synchronizer
• Axon & SAM Multiviewer
• 4x 3G Waveform/ Vector 1 x rasterizer
• Dolby Measuring
• Up to 4x EVS XT3 12 channel
• Up to 4 clips
• 1x EVS XT Access Server
PRODUCTION A:
• 3G/HD/SD multiformat switcher Kahuna 360 with Maverick Control panel
• 60 inputs, 40 outputs
• 3 Extreme M/E
• 7 keyers per M/E, 4 super keyers with resize engines
• 3x effect keyers
• Format Fusion 3
• 3D DVE with linear and non-linear effects
• Internal clipstore with 20 outputs
• All inputs and outputs with full color correction
• 2 M/E Kahuna Maverick Control panel
• 8×55'' 4K display, 3x 32'' 3G display, 3×21'' 3G display
• 2nd audio area
PRODUCTION AREA B (multifunctional room):
• 2 M/E Kahuna Maverick control panel
• 4x 55'' 4K display, 2x 32'' 3G display
• 2nd audio production
• Lawo MC² 56 MKII high end audio console with 48 channel stripes
• HD Core Nova 73 router with 8192*8192 matrixpoints/ redundancy
• 144 DSP channels in recording mode
• 288 DSP channels in broadcast mode
• 28 Madi ports
• Neumann 5.1 speakersystem
• K+H M51 Speakersystem
• Wohler Audio controller
• 2x 128 channel multirack recording
• Multi-channel audio processing: Waves Soundgrid
• Dolby Surround 5.1
• Intercom: Riedel Artist M
  – 2x 128 x 128 ports
  – 6x main radio
  – 24x portable radios
• 3 stageboxes via Fiber (SMPTE 3K93C)
• DSP-redundancy
• Wireless full duplex intercom system Riedel Bolero