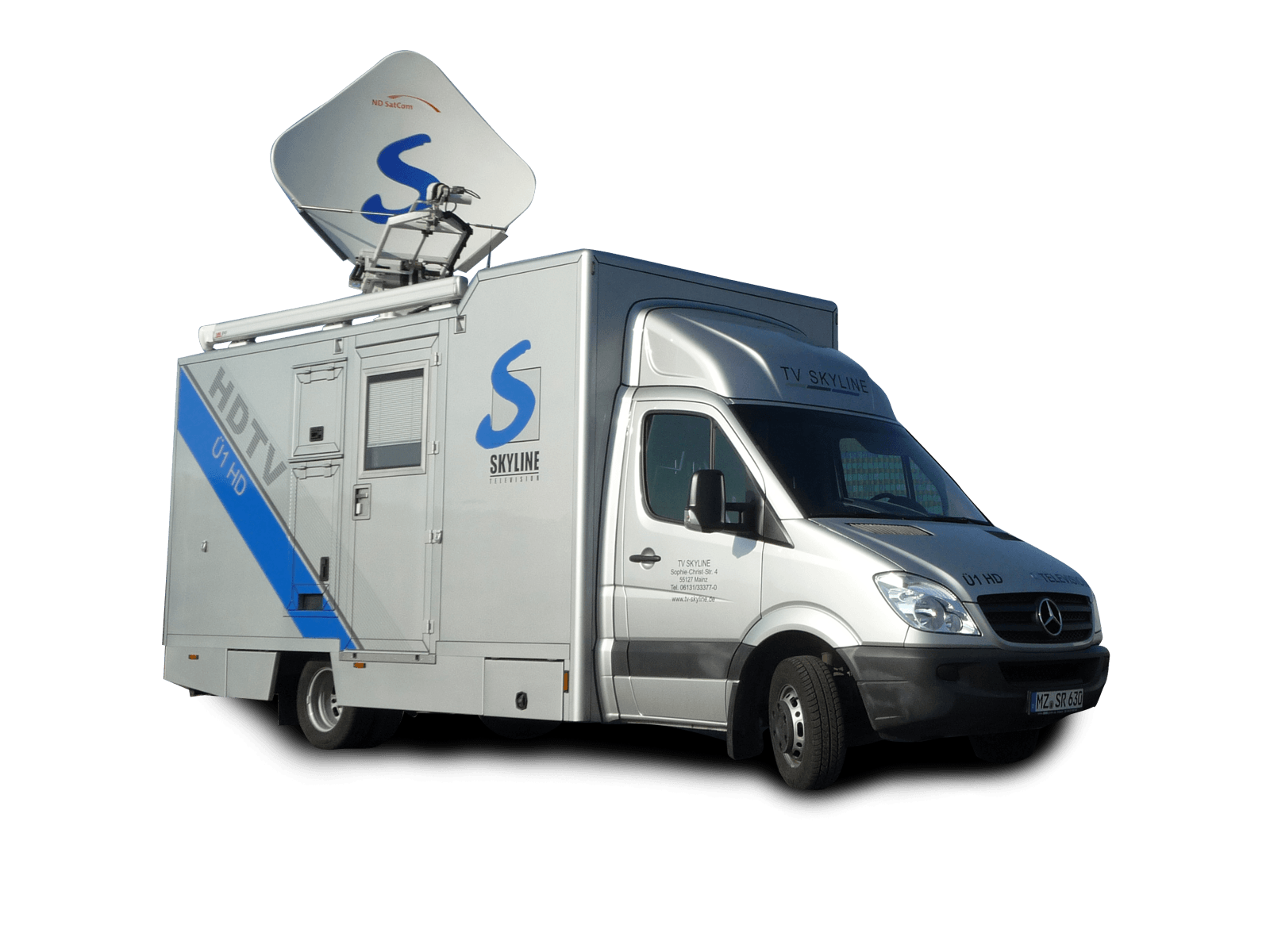 OB1
Our OB1 – the compact OB truck with integrated 1 + 1 satellite uplink
This versatile vehicle is the ideal solution for smaller productions or supplements with up to 6 broadcast cameras plus additional special cameras.
Cost-effective, space-saving, low power consumption and short installation time.
The OB1 is used by customers throughout Europe, e.g. for smaller sports broadcasts, as an addition (UEFA Champions and European League, Moto GP, DTM, winter sports), but also for show (opening show of Germany's Next Top Model, Sing um dein Leben, SWR Comedy Nights, EON Powergames, Stand-Up Commedy) and Classical Productions (Season Opening Milan Scala, Salzburg Festival, Bayreuth Festival).
Vision Control
HD/SD Uplink
1,5 ME multiformat vision mixer
10x displays
9x Quadsplits
2x Multiviewer
Audio Area
Digital mixing console: Soundcraft Vi1
2x Codec Prodys Prontonet LC (ISDN/G722/3G and more)
12x Intercom panels
up to 8 audio channels
• Up to 6x Ikegami HDK-970A / HDK-97A
• 1,5 ME multiformat vision mixer
• 2x assignable 2D/3D-DVE
• HDSDI video router 72×144
• Crystal Vision Embedder, Up-/Down-/Crossconverter
• 10x displays
• 9x Quadsplits
• 2x Multiviewer
• 2x Fiber-Stageboxes (8x HD-SDI)
• 3x VTRs (XDCam, HDCam)
• 1x EVS
• 2x Ericsson AVP 3000 Voyager
• 2x Ericsson RX 8200
• DVB-S2 8PSK, QPSK and DVB-S QPSK
• Up to 8 audio channels
• Dolby E 20bit and 16bit, Dolby Digital (AC3) pass through
• BISS-Coding
• Antenna System: ERA 1,9 Meter Ø
• Digital mixing console: Soundcraft Vi1
  – analog: 32x inputs, 24x outputs
  – digital: 64x inputs, 64x outputs
• 2x Codec Prodys Prontonet LC (ISDN/G722/3G and more)
• 1x Mayah Centauri 2000 (Dual ISDN)
• 1x Riedel Trio Conect (Dual analog, dual ISDN, dual VoIP)
• 2x GSM-phones incl. phone hybrid
• Intercom: Riedel Artist 64
• 17x Intercom panels
• Stageboxes with Rocknet connection